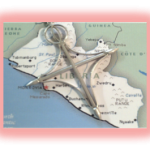 The Kuwaa Mission is a partnership of the Lutheran Church in Liberia and ELCA and LCMS congregations, groups, and individuals who want to help the Kuwaa people in Liberia, West Africa.
National Anthem – Liberia
The Kuwaa mission is envisioned as wholistic with the goal of serving people spiritually, mentally, emotionally, and physically. With God's help we will join hands with the Kuwaa people in restoring their hope and standard of living. A majority of Kuwaa people are Christians.
Liberia is located on Africa's west coast. It is about the size of Ohio and populated by just a few million people. The population is made up of mostly indigenous tribes and Americo-Liberians (descendants of freed slaves who returned to Africa under President Monroe).  http://en.wikipedia.org/wiki/Liberia "The history of Liberia is unique among African nations, due to its roots as a colony founded by freed slaves from the United States. These freed slaves formed an elite group in Liberian society, and, in 1847, formed a government based on that of the United States, naming their capital city after James Monroe, the fifth president of the United States. This government was overthrown by a military-led coup in 1980, which marked the beginning of a period of instability and civil war that left hundreds of thousands of people dead and devastated the country's economy. Today, Liberia is recovering, and despite its poverty and lack of adequate infrastructure, it has experienced economic growth."